Mare for Sale by Baladin D'Oc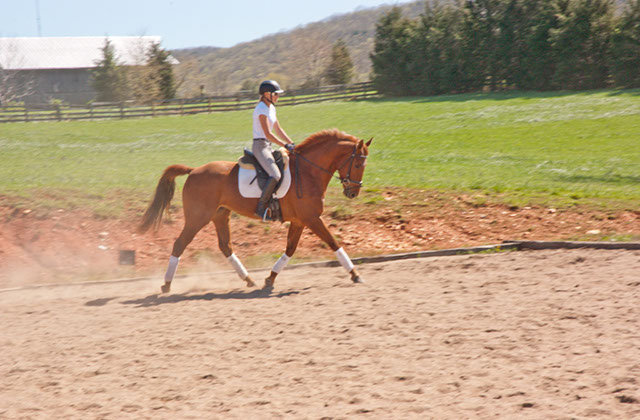 Breed: Oldenburg NA
Birth Year 2006
Sex: Mare
Sire: Baladin d'Oc
Dam Sire: Golfball (HAN)
Size: 15.3
Training: Level 2 Dressage
SOLD - Congratulations Denise!
This is a super sweet and wonderful mare. For those who don't have a big budget and want a quality, safe, sane, and sound smaller horse, here is your opportunity. She is very uncomplicated, forward thinking and light in the bridle.
She has great ground manners and is a lady for clipping, mane pulling, loading, and handling on the ground. She is never marish even when in heat with 2 stallions in the barn. She has all of her Spring shots and is sound with great feet, legs and healthy. If you want a low maintenance partner to go out and show right now. She is ready to show Training 3 and First 1 tomorrow and is a very nice mover.
We find that she is a super fast learner and retains her training from ride to ride. She is in full training under Sue and also ridden by our working students. She is tolerant has experience over fences and is comfortable to ride in all gaits. She is also quite well balanced and has the athleticism to progress up the levels and be a best friend.
She is suitable for an adult amatuer dressage rider for fun or competition and could also be a great pony club mount for a competitive rider to move up the ratings. She is priced for immediate sale so don't wait to call.
$12,500 Firm
This email address is being protected from spambots. You need JavaScript enabled to view it.

and ask for Jeff