Ghostbuster
Gelding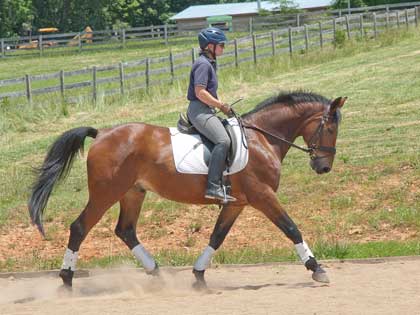 Hanoverian - (Imported)
Bay
16.1+
Schooling 3rd level with clean easy Tempi Changes
Training Notes:
Buster is 9 years old and ready to show 2nd-3rd level with clean, easy changes and working 4 and 3 Tempis He has lovely with rhythmic gaits, super sweet disposition, steady in the contact and easy in the bridle. His lengthenings are Beautiful!
Buster is sound with no health issues or vices. Here is an awesome opportunity for a JR/YR or Competing Amateur with a goal of regional championships and beyond.
He is a perfect gentleman in all situations and hacks out everywhere too.
Everyone at Impulsion Unlimited LOVES Buster.You will TOO!
http://www.youtube.com/watch?v=Ya0WcFyRR1s
Video:
This email address is being protected from spambots. You need JavaScript enabled to view it.or call us at 540-296-0836 today.