R. Malachi VT
Gelding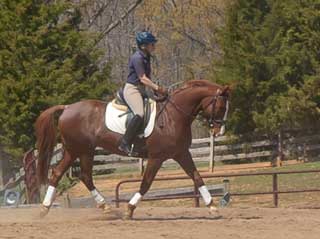 Holsteiner
Chestnut
16.1
R Saluut II
Remi is SOLD
Remi  is another example of the quality horses we love to work with born at Virginia Tech.
Remi is light in the contact and forward to the aids.

He is easy off the leg and a nice ride with comfortable gaits.

He is very confident in new situations and calm hacking out and NEVER Spooky.
Remy is in full training 5-6 days per week.
He has show experience in the dressage ring, jumps and has a lifetime USDF registration number.
Remi is working solid Second Level Dressage, and is sound with no vices or health or lameness issues.
Remi is a solid second level gelding with show experience.