Another Match Made!
Make your Bronze or Silver Medal DREAM a REALITY with Loyd!
Loyd-Grau
Gelding
Oldenburg
Grey
16.2
Landfriese II
Shown
PSG/I1 - Former Region 8 PSG Winner
Congratulations Anna!
About Me:
I showed through PSG/I1 winning the Region 8 PSG champion title in 2005 and had the same owner who imported me for 5 years and we always got along well. She wants me to be in a situation where I will continue to have a great life and have someone to enjoy my company as much as she has.
I am kind, patient, & as close to bombproof as can be. I am both lovable & love attention. I workout 5-6 days a week and consider myself to have Striking good looks.
My personal trainer, Sue Cooper, is a USDF gold medalist and says I am a flying change machine who anyone can learn from. We are now working on 1 Tempis for fun.
I have Lifetime USDF/USEF numbers and would enjoy some ring time in the near future. If you need a little while get ready for a show or would like to just give me a gentleman's life of leisure, I can do that too and am not above being spoiled. I prefer sugar cubes over peppermints. I also enjoy quiet walks.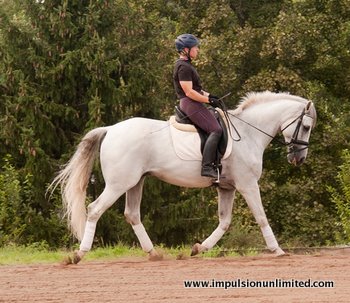 I am sound as can be expected with many good years ahead to share and teach you. By the way, a snaffle is great and there is recent video of me strutting my stuff if you register and log in.
Do I sound interesting to you? Do you think I may be your match?
If so take the First Step now: Call or email Jeff. He is quite good at determining compatibility, saving us both time and effort. If he feels we are match in the making, he will work with you to arrange our introductions. Let's medal together in 2011!
Loydgrau
Video is posted. Check out Loyds 4's, 3's, and 2's! Loyd's a change machine with or without a double bridle. ANYBODY can ride compete and learn from this horse. Truly a great opportunity!
Don't wait and risk missing out! email This email address is being protected from spambots. You need JavaScript enabled to view it. or call Jeff or Sue at 540-296-0836.